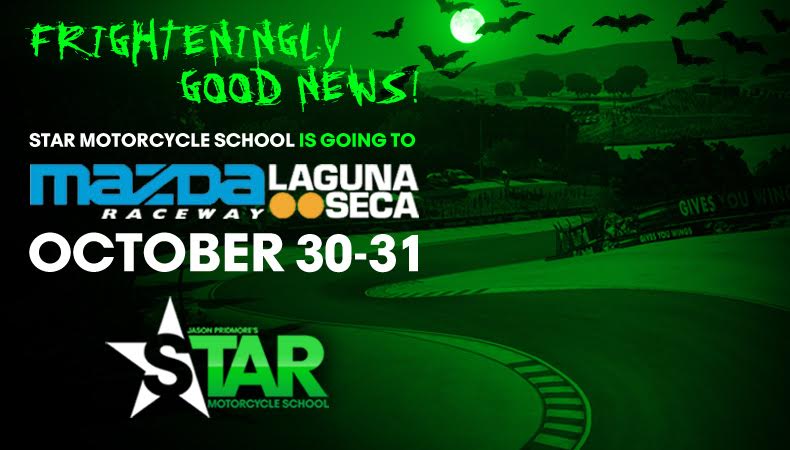 A 2-Day STAR School at Mazda Raceway Laguna Seca? You can bet it does not get any better than that. To say that Laguna Seca is iconic would be a massive understatement.
For years, people from all over the world have flocked to Monterey to witness the spectacles of Moto GP, World Superbike and AMA races. It has been a while since STAR has turned laps at this spectacular facility but on October 30-31, we will return to Laguna Seca and now you will get the opportunity to ride and learn with us.
Laguna is a great track to have a STAR School at. The track offers challenges that other places don't. The elevation changes make Laguna so unique. From the top of the infamous "Corkscrew" down through "Rainey Curve" you need to have all of your senses about you. Unless you've been up there and walked it, you have no idea how steep it really is. Turn 1 is a corner that often gets overshadowed. Blind and flat out you better have your vision scanning at all times and know what you are shooting for. Remember Jason's "Eyes Up" article, this is a great place to practice the use of visual aids. Turns 3 and 4 are tricky because they are both so flat. Everything there is so unique and the coolest part of going back as a STAR School is getting to walk the track. The views from behind turn 6 looking over the valleys of Salinas are amazing and going up the hill to the "Corkscrew" out of turn 6 will blow your mind. Working on our braking and visual drills around this place will be a great learning experience for our students.
To make this STAR Motorcycle School more special for all that attend we have made available an all-inclusive deal featuring:
2 days on track with our professional coaches
The opportunity to ride 2-up laps with Jason Pridmore
Catered trackside lunches
First night dinner at the Embassy Suites with SPECIAL GUEST Josh Hayes and Jason for Q&A
Kawasaki Demo Rides available on Ninja ZX6R's and Ninja 300's
Personalized on-track video for all students to take home
Register NOW to save your spot!